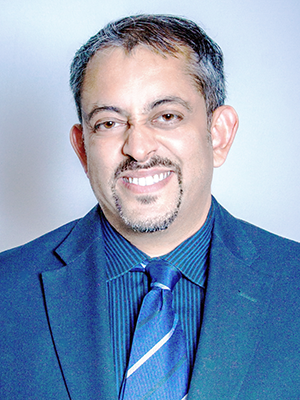 Dr. Vishnu Raj grew up in Bangalore, India and completed dental school at the famous Bangalore University.
 He then attended the University of Central Oklahoma where he got a Master of Science degree in Forensic Science, and was awarded the Herbert Hauptmann Fellowship Award. 
Following this, he was at the University of North Carolina – Chapel Hill, where he graduated with another Master of Science degree, and a residency certificate in Operative Dentistry. While at the University of North Carolina, Dr. Raj received the Ann and Randolph Babcock Fellowship Award. 
Dr. Raj subsequently attended the University of Texas Health Science Center – San Antonio, for his 3-year Orthodontic Residency training, and he now serves as  Clinical Associate Professor of Orthodontics, at the UT Health Sci Center San Antonio.  As a life-long learner, Dr. Raj frequently attends continuing education programs in order to stay abreast of the latest advances in Orthodontics and Dentistry. 
He also serves as a reviewer for several orthodontic journals, and has published several research articles in the areas of orthodontics and restorative dentistry. He was a key contributor to a clinical trial evaluating technology that would enhance the rate of tooth movement. Dr. Raj is a member of numerous professional organizations including the American Association of Orthodontists, South-Western Society of Orthodontists and the Texas Association of Orthodontists. His favorite part of being an orthodontist is the opportunity to meet and positively interact with patients through the course of treatment. In his spare time, Dr. Raj and his wife Olga love to travel, visit friends and family.